Going Concern: Lewis Rose
Original article appeared on the CPACanada.ca (Chartered Professional Accountants of Canada July 2004).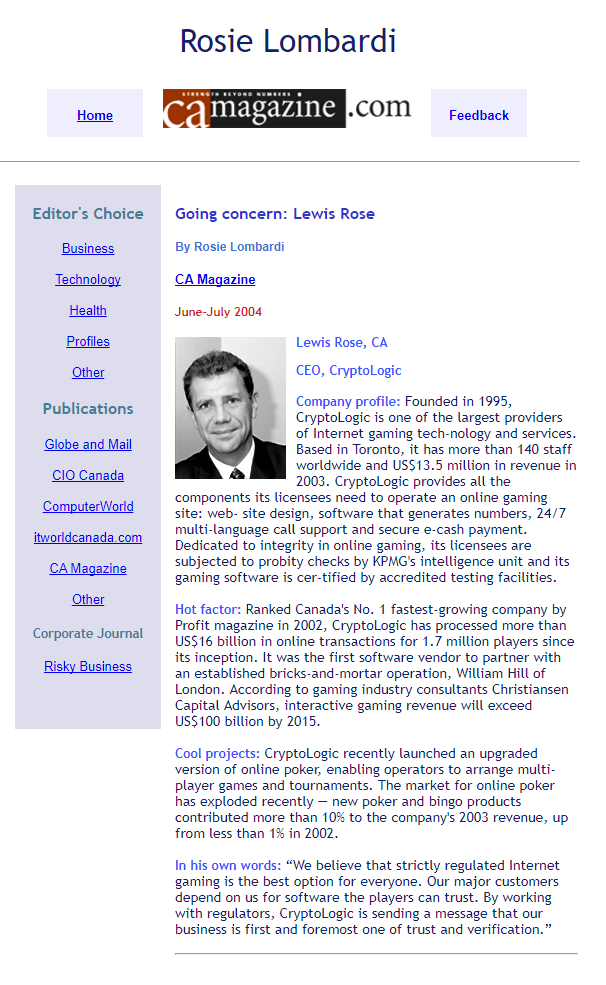 Lewis Rose
Strategic and Entrepreneurial Board Director and Chief Executive of Businesses in Transition
History of leading successful Strategic Transformations of businesses in transition via rapid financial and operational Turnarounds in multiple industries – from reinvigorating established $3 billion businesses with 20,000 employees to swiftly scaling smaller high-growth companies.
South African born, Canadian businessman with 30 years of diverse Board of Director and C-suite leadership experience in both private and publicly-traded enterprises with global operations, including blue chip companies such as Maple Leaf Foods, Alliance Atlantis Communications and CryptoLogic Inc., and also headed the Turnaround Management Practice of Farber Financial Group.
Experienced in software development/technology, consumer packaged goods, food manufacturing and distribution, financial services, agriculture, and media and entertainment industries.
CEO, BakerStone International*
Partner, Farber Turnaround Mgmt.
President, Alliance Atlantis*
President, Maple Leaf Grocery*
CFO, Maple Leaf Foods Inc.*
President and CEO, CryptoLogic Inc.*
Assistant VP, CIBC Wood Gundy
*Also Board Director